Address
Hitotsubashi University Kodaira International Campus International Student Housing Hitotsubashi Dormitory (Kodaira)
1-29-1 Gakuen Nishimachi, Kodaira, Tokyo 187-0045, Japan
Access
Take the JR Chuo Line, transfer at Kokubunji Station to the Seibu Tamako Line, get off at Hitotsubashi Gakuen Station, and walk 7 minutes from the south exit.
Vicinity
Around the dormitory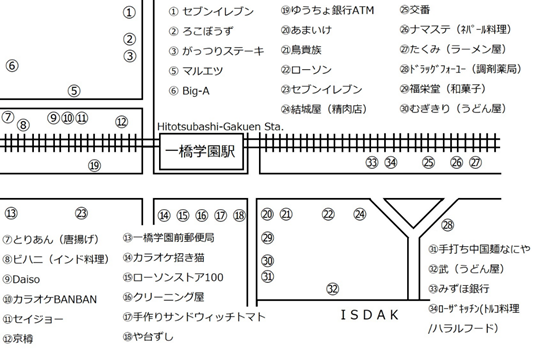 Between Hitotsubashi Gakuen Station and Kokubunji Station
Gyomu Supermarket


Business hours

:9:00-20:00
A mass merchandiser that is affordable in any case. Frozen foods, foreign snacks and seasonings, etc. are abundant.
Conan & Smith


Business hours

:Conan 9:00-21:00 / Smith9:00-24:00
Large household items such as blackout curtains and kettles can be purchased at Konan (home improvement center).
Groceries at Summit (general merchandise store) are inexpensive and varied.
Photograph machine is also available (this is the closest one to the dormitory).
Around Kokubunji Station North Exit
SEIYU Supermarket


Open 24-7

So you can drop by at any hour
It offers fresh food on the basement floor, pots, pans, plates and bicycles on the fourth floor.
Picaso Kokubunji Store (general merchandise store)


Business hours

: 9:00-26:00
It sells everything from groceries to shampoo, selfie sticks, cosplay costumes, bicycles, you name it.
OK Store (fresh food supermarket)


Business hours

: 10:00-21:00
It sells groceries. It's a 10 minute walk from the station, but very affordable.