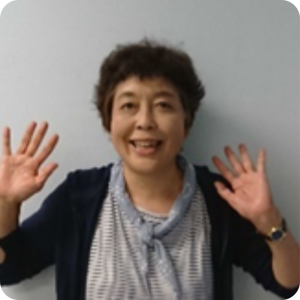 Do you know the place that all dorm residents must have visited? The place you head to when you need to complete dormitory entry procedures or have a problem with your router, or when the electricity goes out? Yes, the Plaza Office. The Plaza Office is located on the first floor of the Plaza Building in Kodaira Dormitory and is where the housemasters and staff members work, and where dorm residents come to seek help.
I mentioned "housemasters" earlier, but do you know who they are and what they do on a daily basis? In this blog, I would like to introduce Kumiko Sato, who has been supporting our dorm residents for the longest time!
Kumiko Sato, a.k.a. Kumi-San, has been working at Kodairadormitory for over 16 years. She is said by dorm residents to be like a mother of this place and is very much loved by everyone. Kumi-San's own job is to take care of the dorm residents and provide guidance. In fact, most of the dormitory students are probably taken care of by her. One of the students I interviewed, A, said that when her friend was going to study abroad, Kumi-san said to her, "You must be sad that B-chan (her friend) is going to study abroad, aren't you?", when her friend B was going to study abroad. A was surprised and impressed that Kumi-san remembered her name and knew which dorm residents she was often with. I am sure there are many dorm residents who have had this kind of experience.
Another time, Kumi-San gave a little expensive chocolate as a gift to the RAs (Dorm residents that are involved in the management of the dormitory; residential assistants) in the meeting. Actually, when I interviewed Kumi-san to write this blog, I also received a bottle of delicious peach tea.
According to Kumi-San, after working at the Kodaira Dormitory almost every day for the last 16 years, she thought that the dormitory had become cleaner and cleaner. She also had a little message for the dorm residents:
"I hope you make a lot of friends at Kodaira Dormitory because you might be able to keep in touch with them for a long time to come."
Kumi-san